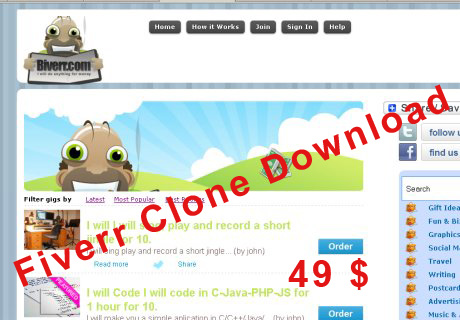 Fiverr.com Website Clone
Greetings,
I would like someone to create a website clone of www.fiverr.com with a different design, same soft type of design just a different layout. I want all the same functionality with the: Share option, facebook connect login options. Update your status on Fiverr.com and it shows up on facebook with a link. Paypal payment options ordering just like fiverr.com. Twitter bar on the right, categories, Like options, Reviews after project completed, search bar.
Please explain how the paypal would work, that part I am unsure of given the fees involved. Would it be kept in escrow? Would a commission on all oders be doable? or say users would pay x+7 and the x would be sent to the user and the 1/2 would be in fees and the other half kept in host account?
Website needs to be in php. And have all the functionalities of fiverrr.com If you have created a clone of fiver in the past you can show it to me and sell me the same one if you want…