Vectortuts+ loves Illustration and discovering new talent, so today we are proud to be showcasing Round 1 of the Vectortuts+ Custom Character Project. If you missed out this time, don't worry, there's still time to be part of it! Find out how to get involved, at the jump.
---
Character Showcase, Round 1
We have selected 25 designs from our Facebook Fan Pictures to showcase in Round 1 of the Character Jam, thank you to everyone who contributed artwork, the response to has been amazing. We have had so many great designs added to our Facebook Group, and encourage you to check it out here.
The designs are posted in no particular order, but we thought it would be fun to kick things off with the two Vector Tuts themed entries. Great work everyone, it's been fun to see what you've come up with. We would also like to add a special thank you to Boris who wrote some great descriptions of his characters.
Submissions are still open. Get your entries in before Sunday 7th of August 2011for a chance to be in Showcase 2! More information on how to participate is at the end of this post.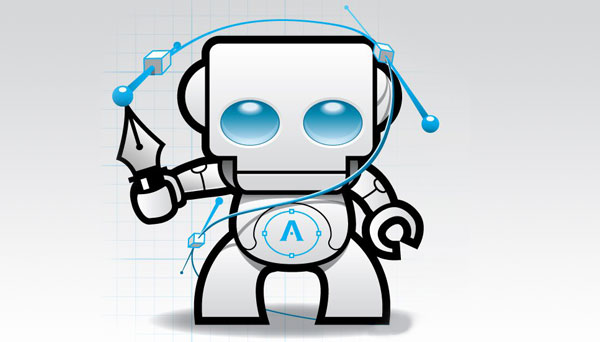 William Von Bank
"This is my vision of what illustrators mascot might look like. Sorry Ron Burgundy, this is the real anchor man."
Ulises Mosqueda
"His name is Vecto. Fight against the evil Pixel. defending the defenseless designers."
Chris Koelsch
"I had a lot of fun with this one. To view more of mine and many other's work check out my blog, This 'n That. "
Boris Melgarejo
"The Time Master is a notorious spirit who creates havoc in time. He was imprisoned into a robot for his foolishness; now named into "Oracle Eye".
Oracle Eye is sentenced to predict the future for eternity. Anyone who wishes to know their fate must read the symbols at the back of its head.
It reads:
I whisper to the elements
To seek my fate
Bring forth the light
As I summon the Oracle Eye
Once you're drawn into the blue light that comes out from the Oracle Eye, it will project objects or phrases about your fate. These are only clues. No one knows how and when these clues will happen.
Anyone who wishes to release the Time Master inside the robot must break the shell on its back with the same power as the one who imprisoned him."
Gaz Illidge
"When i first saw the template it reminded me of apple products straight away so I went with it. I've only be working with illustrator for the past couple of months and the site has really helped me learn the tool set pretty quickly. Keep up the good work!"
Boris Melgarejo
"Justice Magnet is a nanorobot who works in groups. Their bodies are covered with strips of magnet that can detect viruses which in fact works well with their laser-shooting-forehead.
Their mouth's purpose (the circle on their tummy) can absorb, and drain the lifesource of their prey. If this fails, each nanobot will trap a portion of their prey in their mouth then move outward in different directions. Much like dissolving the enemy.
You certainly don't want to mess even a single Justice Magnet because these guys can alarm the entire army in a second."
Aleksey
"This is my robot. I began working with vector not very long ago. So this was a good practice for me, and of course i really enjoyed it!"
Fajri Dhruva Maulana
"This my character . you can see some my works at dhruvaworks.deviant?art"
Koko
"I'm just starting as a graphic designer. I knew tuts+ from AE tutorials, now I'm learning from your psd and vector ones. I used a vector illustration i did a couple of weeks ago of Big Bang Theory's Sheldon Cooper. You can see more of my very first work here."
Andy Eveland
"This is my Character Jam, I call him Marshy (mostly because his head looks like a marshmallow). I had lots of fun with illustration with techniques I used from the "Spray Can" tutorial on VectorTuts. You can visit my website to see more of my work and what I've been up to."
Shawn McClellan
"Blingy"
Ian Vox
"this is my piece; "my red robot" 100% vector done on adobe illustrator cs5. I am Ian Diez and i'm a freelance graphic designer who loves to do vectors. You can view my works here"
Boris Melgarejo
"Yellow Nature is an eco-friendly robot that works outdoors. His main duty is to maintain balance among the grasses, and the flowers.
His skin is as bright as the sun which in fact can camouflage him well. If you look upwards you'll be blinded by his skin, if you look downwards, you'll be fooled to see a ladybug or a rosebud by the distance.
Yellow Nature's lifesource is solar-powered. The plates on his right ear, and feet are solar panels to absorb the sun's rays. His lifesource can last up to 24 hours.
In case he is in near-drained-state, he will plug himself (the socket on his back – center) to a nearby battery source."
Daniel Reeve
"This is my cheeky little monkey… hope you like him, just don't touch his n'ana. Check out my portfolio site here."
Chucho Barrera Henao
"This is my custom design, Bearbot Jason."
Daniel Sanchez
"Although I don't consider myself a vector artist, I really love character design and I enjoyed working on this project!
I used a few gradient mesh and simple shapes in order to spice up my character and it came out really good!"
Regis Trento
"Cannibal robot for Vectortuts+!!!!!"
Buster Campbell
"Here is my first entry inspired by a current movie, can you guess which one? I've been using photoshop for years but I've only ventured into Illustrator in the last few months."
Shawn McClellan
"My in-game name is DFMhellboy so the choice was obvious."
Ryan Abney
"I'm Ryan, a visual communications student from Indianapolis. I liked the super heroes that have been posted so far so I figured I would give a crack at my favorite X-Man, Cyclops."
Doaly
"I'm a web design but i also love to illustrate, my entry for the comp is ghost rider, I'm a big comic art fan. You can see more of my work at doaly.co.uk"
Omar Esquivias
"recently graduated from San Francisco State University with a Visual Communications Degree. You guys can see some of my stuff at oegraphics.com"
Andres
"Here's my character for the Jam – Skater Thug."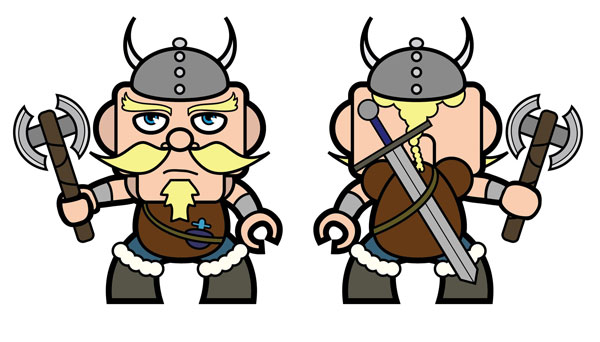 Jason Stanley
"My guy's called Jósurr Madhorse and he's one tough viking. Been through many wars and can easily switch between battle axe and sword. I'm a graphic designer in the UK and you can see me at .juusmedia.com"
Studio Grafiko
"When I saw the template my first thought was that it reminds me of a Lego figure because its arms and the squarness of the head. So I took that route creatively and made it into a "deformed" Lego zombie. You can see some of my other work on my site Studio Grafiko"
---
Design a Custom Vectortuts+ Custom Character!
All you need to do for this project is download the design template and customize the Vectortuts+ Robot Character in any style and theme that takes your fancy. Add your work to the Vectortuts+ Facebook Group and show us what you think a custom Vectortuts+ character would look like. We will showcase a selection of the entries on our blog.
We can't wait to see what you come up with!
---
How to Get Involved!
Would you like to participate in the Vectortuts+ Custom Character Project? It's easy, all you need to do is Download the Template, join the Vectortuts+ Facebook Group and get creative!
Vector Tuts+ Monkey King by Sean Kelly
---
How to Make a Vectortuts+ Custom Character:
Draw your image onto the template, you can be as creative as you like, feel free to alter any or all of the illustration. We want to see creative and fun projects so go crazy!
Upload your design to the Vectortuts+ Facebook Group with a short description of the design and what kind of character it is.
---
Guidelines:
Artwork can be any style or theme as long as it's vector and 100% your own work.
You don't have to spend hours and hours on your piece, the project's aim is to be fun, fast and individual.
You may submit more than one design
When you publish your work on Facebook, please include one or two paragraphs about yourself and/or your work and a link to your website / online portfolio.
Have Fun!
{excerpt}
Read More